Do I have to buy Premium Traffic?
The RPM System is completely free and there is absolutely no obligation to purchase anything!

As you will discover in the training modules there are several organic(not paid) sources of traffic, and more advanced(paid) sources of traffic.

Some members want to go faster, and are wanting access to the best traffic sources that will return a higher opt in rate, and therefore, build a list quicker.

As you can see in the attached image...it clearly shows "Optional" not mandatory. We want you to have all resources at your disposal, so you are armed with knowledge
to help you move your business along at the pace you prefer. We don't believe in "Pitches" either, and that is why the intro video points that out right up front. We want everyone

to be successful with RPM or whatever they choose to do. We just provide the tools, training, and resources to accomplish your goals.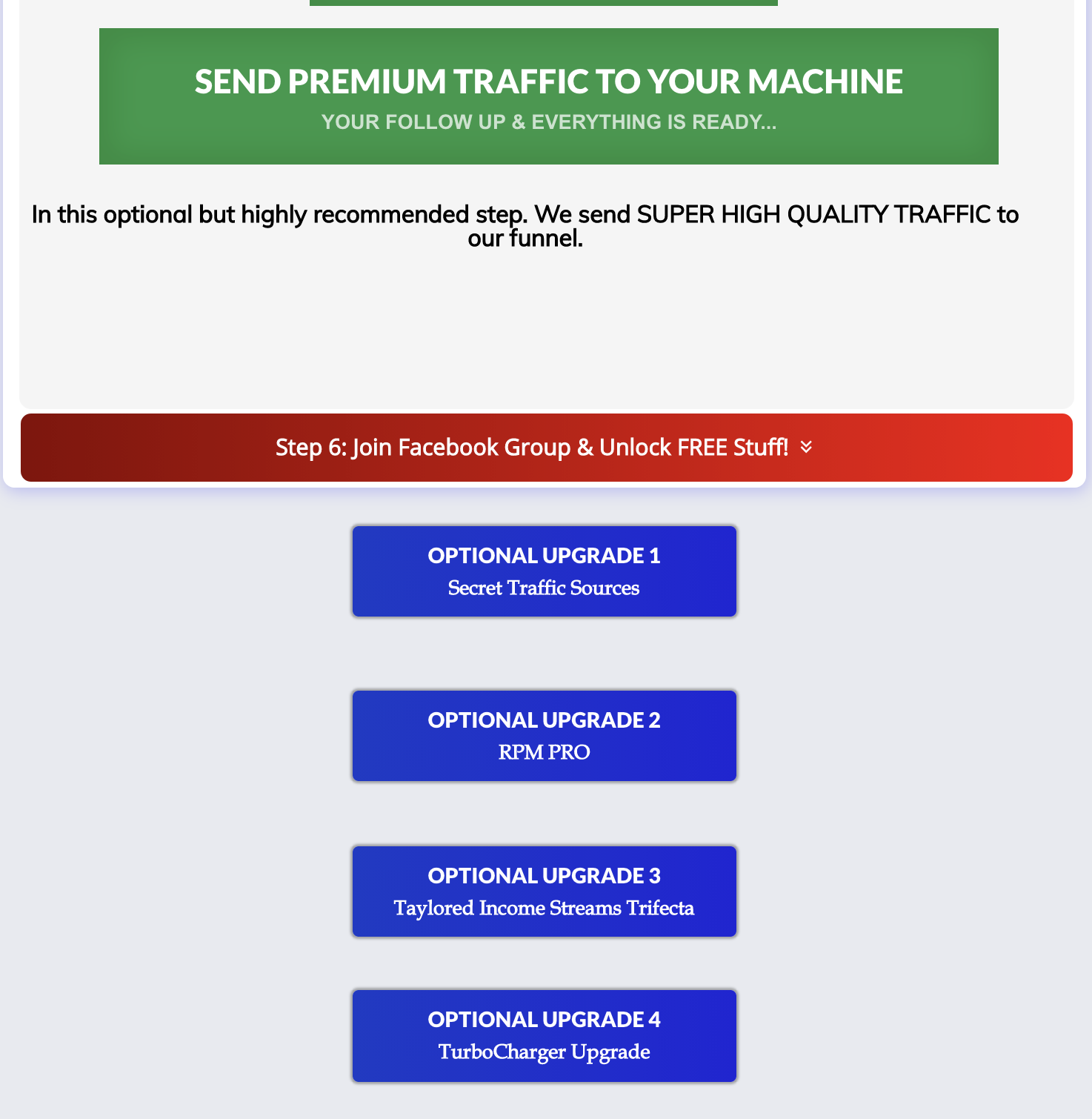 Related Articles

I purchased Premium Traffic...when will it be delivered?

Premium Traffic and Premium "Buyers" Traffic normally takes 24 to 48 hours to be processed and verified to be added to the Queue. Depending on the quantity of orders, sometimes fulfillment is longer, but oftentimes quicker. Please keep in mind ...

Can I send Traffic to any page using TYBL Solo Ads?

Yes! You can send traffic to any Funnel, Webinar Page, Bridge Page, Opt In page using our Premium traffic, and Premium Buyers Traffic. Add your destination URL to the Form and confirm. Be sure to test your entire Funnel before Submitting your final ...

Does Secret Traffic Sources have a Guarantee?

Absolutely! Secret Traffic Sources has a 14 Day Money Back No Questions Guarantee.

Why do I need to send traffic?

As you know, what makes the RPM System so valuable is it has all the hard part done for you, and all you need to learn is how to send Traffic to your Opt In pages that allow you to build a massive Email List, and convert subscribers to new team mates ...

Why should I upgrade to Secret Traffic Sources?

Secret Traffic Sources are a massive compilation of Training contained in the MAB Elite System that is a $4,997.00 program for members aspiring to become Super Affiliates. You are able to get this incredible training for a mere $27.00. Take your ...